In July 2018, I travelled to Ghana to take part in the four-week High School Special Medicine Project. I was nervous about travelling to a foreign country on my own but as I found out, I need not have worried as I had the time of my life!
My first memory of Ghana is stepping off the plane in Accra. I remember being struck by how hot and humid it was, a direct contrast to grey and rainy England! Our first night in Ghana was spent at the Pink Hostel Hotel, before a minibus took us to Cape Coast the following morning.
Living with a host family
Our host family was very welcoming. All nine of us on the four-week Medicine placement were staying with the same host family, which was really nice as it allowed us to all bond. Over the 4 weeks, we became really close as a group. We still keep in contact every day on Snapchat. Our group also became close with our host brothers, who helped us with our laundry and even took us to church one Sunday.
My Medicine placement
The work we did was the highlight of the trip for me. Once a week, we went to Cape Coast Teaching Hospital where we could pick which departments we wanted to shadow nurses in. I went to the intensive care unit, the paediatrics ward, the women's medical ward, and accident and emergency. All the hospital staff were really friendly and were happy to answer all my questions. I got to help a nurse triage patients in the accident and emergency ward, which was definitely a highlight for me. I wasn't expecting to be allowed to get so hands-on.
We also went to a leprosy camp once a week and helped clean and bandage the patients' wounds. Some of the wounds were very bad and it was a privilege to be able to help the patients in a small way.
We spent a large amount of time going into different communities to perform community outreaches. We measured patients' BMI and body fat percentage, took their blood pressure and temperature, and tested their blood group. We also checked for diseases such as Hepatitis B and malaria. After this basic screening, they would get a short consultation with our supervisor, assisted by one of us.
I met so many amazing people through these community outreaches who were all appreciative of our efforts. One community gave us a crate of fizzy drinks to share as a way to say thank you, which was really nice.
Over the four weeks, we also visited two different schools to teach the children about malaria and cholera and to perform basic health checks on them. The children were all so delighted to see us and always got really excited when we told them how old we were, which we all thought was funny.
Weekend activities
The weekends were no less busy than the week days! Over one weekend, we had an overnight trip to Ko-Sa Beach Resort. After a busy week, it was really nice to chill on the beach with all the other volunteers and pass the time playing numerous different card games.
We also visited Kakum National Park and went on the walkway suspended high in the rainforest canopy. We visited a wildlife sanctuary called Hans Cottage and on our last afternoon, we visited Cape Coast Castle where we learnt about the transatlantic slave trade. In the evenings, it was nice to just chill out at our host family's house and watch TV or play cards with our host brothers.
Staff support
Everyone I met during my time in Ghana was so friendly, from the nurses at the hospital to the people I met while doing community outreach to our host family. Ghana is definitely the friendliest country I've been to! I felt fully supported by all the Projects Abroad staff. If I ever had a problem or a question, our group supervisor was there to help and the other Projects Abroad staff were only a call away if we needed them.
Being on the High School Special programme allowed me to explore a new country and culture without feeling worried or nervous, and I never felt like I was on my own. I really enjoyed how structured our time was and I felt the programme allowed us to really make the most of our time abroad.
My overall experience
During my time in Ghana, it is safe to say I fell in love with the country. It is so different from England, so much more vibrant and full of life. You get used to seeing people carry anything and everything on their heads and seeing goats and other assorted animals wandering around everywhere. Goats bleating loudly outside your bedroom window early in the morning and the occasional power cut all became a normal part of life. When I was there, it felt like I was experiencing the real Ghana.
I enjoyed trying traditional Ghanaian food such as red red, which we helped cook during a social evening at the office. We also took part in drumming and dancing workshops during a different social evening. I don't think I have laughed that much for a long time!
I learnt so much during my time in Ghana. The experiences I had will stay with me for the rest of my life and help me as I embark on my medical training at university in September. My experience in Ghana was such a positive one and I would love to return to Ghana one day in the future.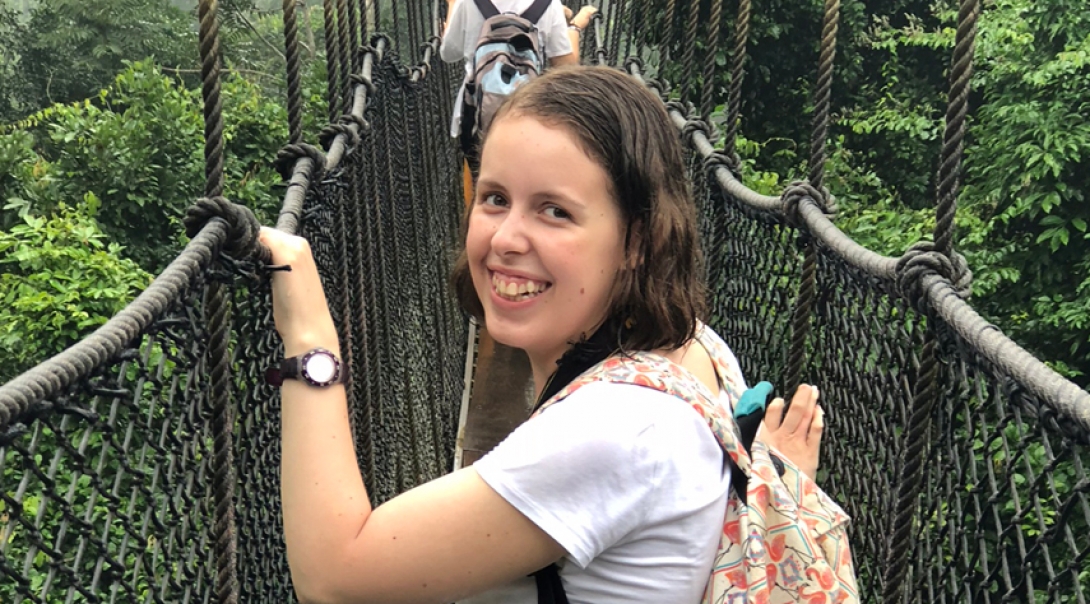 Dit verhaal is een persoonlijke ervaring van een vrijwilliger op dit project en dus een momentopname. Houd er rekening mee dat jouw ervaring hiervan af kan wijken. Onze projecten veranderen constant, omdat we inspelen op de lokale behoefte en we voortborduren op de behaalde resultaten. Ook verschillende weersomstandigheden kunnen de ervaring beïnvloeden. Lees meer over wat je kunt verwachten van dit project of neem contact met ons op voor meer informatie.